Webelos -- 4th Grade
Boys in 4th Grade
4th Grade Webelos continue the Cub Scout fun and start the transition to the Boy Scout program. Webelos start campi
ng with their den, going on outdoor activities, and have a new and chal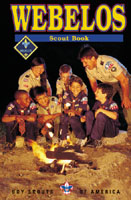 lenging advancement program. Webelos are led by volunteer leaders. Monthly pack meetings bring dens and families together for recognition and plenty of fun!
A Webelos Scout works on requirements for the Webelos activity badges in his Webelos den meetings. Completion is approved by the Webelos den leader.
These badges are part of the requirements for the Webelos badge and the Arrow of Light, which prepare him to join Boy Scouting.
| | | | | |
| --- | --- | --- | --- | --- |
| Aquanaut | Artist | Athlete | Citizen | Communicator |
| Craftsman | Engineer | Family Member | Fitness | Forester |
| Geologist | Handyman | Naturalist | Outdoorsman | Readyman |
| Scholar | Scientist | Showman | Sportsman | Traveler |
4th Grade Webelo Den Leader

Name

Phone

Parents

E-mail Address